[nivoslider id="887″]
Latest from Johnny, Danny, Joe and Brian
[gplt orient="v" imgo="false" ttgo="true" dtgo="false" dtfrm="2″ categ="Band" postnr="2″ linn="2″ divwid="382″ tbwid="90″ tbhig="90″ cp="4″ cs="4″ lwt="2″ tte="" sptb="false" tgtb="false" ordm="DESC" ordf="Date" metk="" mett="" pgin="" ptype="post" dexcp="true" gptb="false"]
JOHNNY RODGERS BAND
– (New York, NY)
Formed in New York City in 2003, the mission of the Johnny Rodgers Band is to bring musical depth to new, original songs and put their own spin on old classics. Johnny Rodgers Band provides a guided tour of American pop and are masters of styles ranging from blues, country, soul, gospel and jazz, to the piano-driven energy of rock and roll. The ensemble cultivates connections with audiences through performances, discussions, demonstrations, and musical exchange.
The Johnny Rodgers Band is honored to tour the world as official ambassadors of music for the U.S. Department of State, bringing American music abroad and promoting cultural diplomacy and understanding between nations, including Cambodia, Fiji, Malaysia, Papua New Guinea, Philippines, Singapore, Solomon Islands, Bahrain, Djibouti, Egypt, Jordan, UAE and Russia. In 2013, the Johnny Rodgers Band was asked to return to Malaysia to headline the first annual Miri Country Music Festival. This June, they will travel to Minsk, Belarus to perform for the US Embassy Independence Day Celebration and participate in the Grodno Jazz Festival.
The Johnny Rodgers Band has performed and recorded with artists such as Liza Minnelli, Michael Feinstein, Randy Brecker, and Tom Harrell, among others. The ensemble has been featured on recordings celebrating such greats as Maury Yeston and Jule Styne. The American Society of Composers, Authors and Publishers (ASCAP) selected the Johnny Rodgers Band to interpret and perform the music of Billy Joel in a command performance for the "Piano Man" himself at Frederick P. Rose Hall, home of Jazz at Lincoln Center.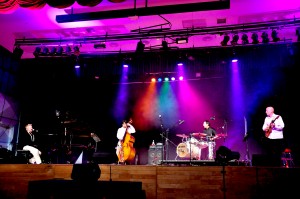 BRIAN GLASSMAN
– Double Bass / Electric Bass
'Mud Man'
Brian is an extremely versatile musician, at home in almost any genre of music but he is perhaps best known for his work in Jazz, Popular American Song and ethnic / world musical styles such as Klezmer.
Just some of the artists that he has performed, toured and recorded with include; Jazz greats like; Paquito d'Rivera, John and Bucky Pizzarelli, Lionel Hampton, Benny Golson, Randy Brecker, Billy Cobham to name just a few.
Well known song stylists of the Popular American Song Book including: Liza Minnelli, Margaret Whiting, Michael Feinstein, Karen Akers, Neil Sedaka and Anne Hampton Callaway.
Klezmer / Yiddish, Classical and Jewish music stars such as The Klezmatics, Alicia Svigals, Andy Statman, Frank London, Zalmon Mlotek and the Yiddishe National Theater Folksbiene, Michael Alpert, Neshama and Shlomo Carlebach and Joshua Bell.
Brian has toured the world over playing bass and teaching workshops and this summer is about to embark on a tour to Belarus, his sixth tour as a Musical Ambassador for the U.S. State Department.
Brian has been Professor of Jazz Bass at Princeton University since 2003.
DANNY MALLON
– Percussion
'Mad Dog'
The "sticks" in his back pocket have been there since he saw the Beatles perform on Ed Sullivan. A student of jazz, orchestral and world drumming has led him to play music and percussion instruments from the world – to audiences around the world.
Danny holds Bachelor and Master of Music degrees in classical orchestral percussion from the Mannes College of Music in NYC, where he has been a faculty member since 1991. In addition to three recordings with Chatham Baroque on the Dorian label, he can also be heard on Pifaro's Dorian recording. He has recently recorded with the Baltimore Consort, Brio and on Ron McFarlane's solo recording on the Dorian, Sona Luminus label. Danny has also recorded and played the music of Alla Borzova with the Da Capo Chamber Players, and has recorded two CD's and performed numerous concerts and radio broadcasts with the Charleston Pro Musica. They toured the South of France five times and were the subject of a PBS documentary that aired in March 2002.
JOSEPH RAVO
– Guitar
'Cotton Eye Joe'
A native New Yorker, multifaceted guitarist and composer Joe Ravo has performed with jazz greats Dave Brubeck, Stanley Turrentine, and Gerry Mulligan and traveled around the world as a cultural ambassador for the US Department of State. For many years he worked in the orchestras of various hit Broadway shows including, A Chorus Line, 42nd Street, Secret Garden, City of Angels, and Dancin'.
Joe has recorded alongside Liza Minelli, Randy Brecker, Anne Hampton Callaway, Michael Feinstein, and Tom Harrell, as well as with the Johnny Rodgers Band (Box of Photographs – PS Classics, Richard Barrone, producer; Bound Together – Melody Thread; Legends of American Music, Volume One), Lee Lessack (In Good Company – LML Music), and Brain Lane Green (Waiting for the Glaciers to Melt – LML Music). He also appears on the PS Classics releases Maury Yeston Songbook and Jule Styne in Hollywood.
In addition to earning a degree in electrical engineering from New York University, Joe studied guitar with Alexander Bellow and participated in the Master Class of Oscar Gighlia at the Accademia Chigiana in Siena, Italy. He studied composition with Rudolph Schramm.
When MIDI (Musical Instrument Digital Interface) was introduced, Joe exploited his engineering background to develop software for Korg USA as a contract programmer. He has served as director of technology for Mannes College the New School for Music for over decade.
Joe has served on the guitar faculties of Columbia University and New York University. He is currently on the faculties of the Preparatory and Extension Divisions of Mannes College the New School for Music. In addition to lending his artistry to commercial jingles and film scores, Joe also performs with Villa Palagonia with Allison Scola, Dodo Orchestra, and in his instrumental guitar trio BeBimBop with Danny Mallon and Brian Glassman.